This workshop is for the beginner-intermediate level splinter who would like to improve their splinting skills while fabricating splints appropriate for patients in the acute care and rehab setting. These custom splints may be used clinically with pediatric as well as adult patients with neurologic and orthopedic diagnoses. Learn to fabricate splints designed to control tone and reduce contractures, improve positioning, and increase function. A review of prefabricated and custom made splints and orthoses will be provided with sample splints made available for trial. This "splint all day" workshop will allow therapists to reduce their fears of splinting especially the neurologically-impaired patient
**** See New Online Casting Course: Casting the Upper Extremity for the Neuro Patient
A great supplement to this live course or a review of what is learned in this live course! Earn contact hours!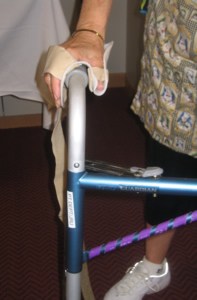 LECTURES
Functional anatomy
Splinting principles, biomechanic and precautions
Clinical applications of specific splints
Analysis of thermoplastic characteristics
Principles of immobilization/mobilization
Custom Vs precut patterns
Splinting considerations for the pediatric/adult neurological patient
Review of recent literature
Biomechanical vs. Neurophysiological approach to splinting
Review of prefabricated and custom made splints and orthoses
Casting for the neurologic and orthopedic patient
Review of Saeboflex, Ness, and Neuroflex orthoses
LABS/DEMONSTRATIONS
Tools, materials, application of splinting principles
Design and pattern-making
Low profile radial nerve splint
Resting hand splint
Weight bearing splint for transfers
Walker Splint for walker use
Neoprene thumb abduction loop splint-2 designs
Lumbrical splint-2 designs
STATE APPROVALS:
2 hours by the CA OT Board
7 hours by the CA PT Board